The last audit cut the subsidy for the Ducks by $555,227, recurring. How much will this one save?
Back in 2009, two weeks before leaving office, Dave Frohnmayer gave the Ducks a special deal on their overhead assessments for costs like insurance, police, lawyers, etc. They were to pay just 3% versus 6-7% for the rest of UO's auxiliary operations. After some digging into public records, a petition or two to the Oregon DOJ, a whistleblowing complaint to the Oregon Secretary of State's Audits Division, and a story in the Oregonian by Steve Duin, in 2012 VPFA Jamie Moffitt finally raised the rate for athletics, and cut it for ASUO student government, etc. Here's my post from back then:
11/9/2012: UO Matters cuts athletics subsidy by $555,227 a year
Forgive me for bragging a bit: I want this in my service report for post-tenure review. Starting last fall I posted a series of stories on the UO athletic department's overhead rate, using documents obtained with public records requests and petitions.
While athletics had originally been scheduled to pay 7%, instead they were only paying 3%. Eventually I traced this to a secret agreement between Dave Frohnmayer and his athletic director Pat Kilkenny, signed 2 weeks before Frohnmayer stepped down as Pres. Steve Duin had a good column about it in the Oregonian. Jamie Moffitt knew about this deal, but she and AD Rob Mullens kept the Senate IAC in the dark until the public records requests made her reveal it.
I started digging into overhead after hearing Mullens and Moffitt (at the time in charge of athletics finances) tell the IAC that the athletic department is "self-supporting" – and then finding out their math depended on sticking the academic side with the bill for the Jock Box and the NCAA lawyers. Made me wonder what other crawly things were hiding under that rock. Overhead turned out to be one, though there are plenty of others.
Bob Berdahl tried to shut down the IAC over these sorts of questions. But now UO has a new president, Mike Gottfredson, who has as of today gone up several points in my book, though not a full letter grade. OUS rules forbid overhead subsidies and require that overhead rates be established using an "auditable" procedure. So Moffitt had no choice but to revisit the calculations – especially with a president who wouldn't look the other way. Today her report came out, here:
Athletics will have to pay $555,227 in new money to UO every year – funds now available for the university's other functions. Yippee. Of course, this means that they owe us $1,665,681 for the past three years. Not to mention the other millions in subsidies we have paid them and are still paying them. The Mac Court deal, for example, is costing us $467,000 a year. Jock Box tutoring $1,830,000. And there are some other expensive problems with how the new rates are calculated, and what they exclude – mostly things that benefit athletics and cost other units. But this is a start. And a big payoff for UO's academic side. So next time you hear Dave Hubin complaining about the $50,000 that my public records requests have supposedly cost UO – he still won't let me see that list – ask him about the benefits.
As the Duck budget has grown from $88M to the current $98M, so has this assessment – it's now $2,525,825. Is it sufficient to cover the many risks, the legal fees, and other costs they impose on UO?
I don't know, but on 9/14/2014 the UO Board adopted an plan for internal audits, including one of athletic department risks, estimated to take 300 hours: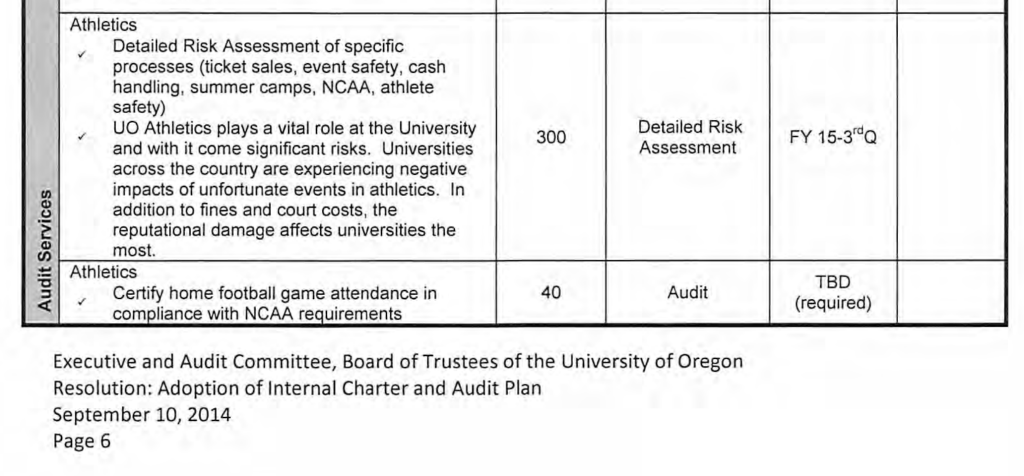 Makes sense, a big-time sports operations includes lots of risks. So are the Ducks paying enough to cover these costs? I emailed UO's Director of Internal Audit Brenda Muirhead asking for this risk assessment, and received this response:
On Wednesday May 20, 2015, at 7:18 PM, Brenda Muirhead <brendam@uoregon.edu> wrote:
Bill –
The dates on this audit plan are estimates. The project you are inquiring about will begin in June. Once audits are complete, the public records office handles requests for reports.
Brenda Muirhead
Office of Internal Audit
I'll let you know when I get that information, presumably this fall. Of course this won't cover all of the costs the athletic department imposes on UO, but it's a start.